Climbing in El Salto, La Huasteca and Potrero Chico, Mexico
Climbing in El Salto! Finally, a dream come true…Michal and I got to Northeastern México on January 9, 2020. We'd both been wanting to check out the rock climbing El Salto and Potrero Chico. It's my second year in a row that I've spent a January in México! Last January, before I started this blog, I flew myself to México City (natives refer to México City as just México, which can be confusing to extranjeros), a place I've been fascinated with ever since my enduring love affair with Frida Kahlo first began. I worked there remotely for one month. This city is unbelievable – the art, food, energy, creativity, markets, people – and for the sake of not making this post even longer, here are just a few photos from that trip:
After deciding – very spontaneously – to build a van together in April 2018, we started saving on rent and saving to travel and climb. When Michal finished his Ph.D in late 2019, I said goodbye "for awhile" to my longtime home in Boulder, Colorado and we took off! Our journey began by driving south for the winter: we spent Christmas in northern Utah with his family, then went down Prescott, Arizona to visit my mom. Then we stopped in Tucson and the spectacular back country of the "Cochise Stronghold" in the Dragoon Mountains for a little climbing to break up the drive. From there, we drove east through Las Cruces, New México — my stepmom's hometown! — stop there for $1 showers at the local rec center. Finally, after following the massive perimeter of West Texas for almost 10 hours we reached the border in Laredo, Texas.
We spent a frantic 2 hours preparing to cross the border in Laredo. Finally, somewhat nervously, and after too much coffee — "where are our passports!" "Do you really need to find an ATM that works with your credit union!?" "It's going to get dark soon!" "Turn here! No, here!!" —  we drove our van across the southern political boundary which divides the U.S. and México. All the while, I was on the phone with approximately six different support representatives trying to change my cell service from Verizon to Sprint at the literal last minute…
After getting through the Banjercito and across la frontera (border) into Nuevo Laredo, México, I tuned the radio to the local station which was playing the Norteña and Ranchera music we'd soon be hearing all day…everyday. We drifted contentedly south down México Federal Highway 85D, a toll road (cuota), which is the safest way to travel here. After driving for about 4 hours we arrived at our first stop, La Cienega de Gonzalez, about 150 miles from the border, just after sunset. All in all, we were completely safe and excited to be somewhere new. Soon, we'd finally be climbing in El Salto.
El Salto – Regional Background Information
The small town of La Cienega de Gonzalez is known to climbers as "El Salto," which means "cascade" or "waterfall." El poblado of Cienega de Gonzalez is located in the Mexican state of Nuevo León. Made up of about 300 inhabitants, it's situated at 4,400 feet in the Sierra Madre Oriental (meaning east – there's also a Sierra Madre Occidental, west). The Sierra Madre Oriental pine-oak forest contains a very diverse and unique community of endemic and specialized species of plants, animals, reptiles and amphibians.
The population of the Cienega de Gonzalez expands on the weekends, filling up with regiomontanos (people from Monterrey.) It's a popular destination for brap-brapping around on "los cuatrimotos" / 4×4's and has a world class reputation among rock climbers for difficult single pitch limestone sport climbing. Climbing in El Salto is world-class!
There are features on limestone walls called "tufas" and these are one of the best par about climbing in El Salto. The limestone canyon walls can be as tall as 300 meters and form "a long, winding and mysterious canyon that runs more than 60 kilometers to connect with Parque La Huasteca." (Fery Rodriguez) Rio Santa Catarina forms these steep canyon walls.
El Salto, una cascada temporada (seasonal waterfall) is usually dry and Rio Santa Catarina is almost always dry "due to the fact that Monterrey Water and Drainage Services has installed approximately 30 water wells with depths between 80 and 114 meters, from which water is taken for domestic and industrial use." (Wikipedia)
Rio Santa Catarina is born in the Sierra Madre Oriental within the Cumbres de Monterrey National Park, near San José de las Boquillas in Santiago, Nuevo León, more than 2,200 meters above sea level, collecting Arteaga waters in the Sierra de la Alamo, Cerro Rancho Nuevo and Sierra de la Viga, then those of Sierra San Isidro, Sierra San Juan Bautista, Sierra San Cristóbal and Sierra Mauricio.

– Wikipedia
Mexico's temperate forests are in danger of extinction due to centuries of logging and cultivation. Thirty-seven percent of the pine-oak forests have been logged and converted to agricultural lands. Cumbres de Monterrey National Park, aka Parque La Huasteca, is one of the largest protected areas in México. However, it's "poorly administered." (WWF)
"Mexico is an important center of diversity for both pines and oaks. It's home to 44 of the 110 recognized pine species and over 135 species of oak. This is more than 30 percent of the world's species in this genus. Of these oak species, more than 85 are endemic to Mexico."

– Critical Ecosystem Partnership Fund
Climbing in El Salto and Life in El Salto
Walking back from climbing at Las Animas Wall one evening, a woman smiled and waved to us from her house. We chatted with her, Meli, and were immediately drawn to her warmth. She said she would be happy to accommodate us while we were climbing in El Salto, so we moved our van to her house after spending the first few nights at RockCamp, another excellent accommodation option for climbers. 
Staying with Meli really enriched our experience in El Salto, as we got to understand the community from her perspective. Meli was born and raised in Cienega de Gonzalez, met her husband there (he proposed to her when she 14), and raised her family there. Meli's mother, Herlinda, lives down the street in the house she grew up in, and Herlinda and Meli's brother, Ismael, sell empanadas on the weekend. The manzana filling for their empanadas comes from the apples that Ismael collects from his ranch about 30 minutes away, further into the Sierra Madre. Ismael invited us to his ranch, and I'm really looking forward to visiting when we return to El Salto in a few weeks!
Meli's son, Roberto, 24, works in El Salto on the weekends renting cuatrimotos to visitors; cuatrimotos are his passion! I also met Meli's older son, Obed and her daughters, Deisy Joanna and Londria.
Thanks to Meli, we had the pleasure of enjoying homemade meals. Meli insisted on sharing her food with us even though it completely perplexes her that Michal doesn't eat meat. She prepares the best salsas I've ever had, roasting tomatillos in her fireplace and grounding them with habanero or serano. She's served us simple yet flavorful dishes like arroz rojo with garbanzo beans, and huevos with pinto beans (frijoles enteros bayos) and homemade tortillas (caseras) de maiz.
"By gathering nearby, seasonal foods and savoring their wholesome and nourishing flavor, local villagers accept what nature provides…" 

– Masanobu Fukuoka
She also made us tea from dried herbs she collects around her home. She collects many yerbas, and we enjoyed evening cups of relaxing poleo tea, which is minty and has sedative effects similar to valerian root. 
Meli's simple lifestyle is totally enchanting to me: spending her days making all your meals from scratch, foraging for herbs, cooking outside over an open flame & collecting the ashes for growing plants in macetas, washing clothes by hand and hanging them to dry, spending a lot of time with family, all are things I aspire to!
Climbing in La Huasteca
After nearly 3 weeks of climbing in El Salto, where the climate is humid and ranges from hot to cold and rainy, Michal was becoming more and more interested in taking a break and checking out nearby La Huasteca. I was skeptical, but so glad we did. We'd end up spending 3 blissful weeks living like locals here.
La Huasteca features really tall walls for multi-pitch climbing, in addition to single pitch climbing, and potential for developing new routes. These walls greatly intimidated U.S. General Zachary Taylor during the Mexican-American war, making Monterrey appear impenetrable. Rio Santa Catarina, which actually formed a natural barrier for Monterrey during the Mexican-American War, connects La Huasteca and El Salto. Mexicans could once drive this canyon until Hurricane Alex moved an impassable boulder into the way. Now, you can hike or run 32 miles from one to the other.
Michal and I stopped to buy more abarrotes (groceries) and I found myself at La Comer City Market – an upscale supermarket chain with a location in San Pedro Garza Garcia, the wealthiest community in Latin America. Everything here charmed us…especially the baby "dominico" bananas. These bananas just seem smoother and creamier than normal bananas! And the donuts and pastries from their panaderia were perfection.
We bought pastured eggs, real butter, big, fat, portobello mushrooms, and my favorite, a perfect, mature, bright red, striated jalapeño pepper.
After our shopping binge, and trying to meet Michal's conditions for eating out, we went to a restaurant in the Pangea group called Cocina Nuestra Libertad. Libertad would apparently have vegetarian options, be in our route, and be in our budget.
Unfortunately, we didn't find any vegetarian main courses on the menu. Fortunately, there were vegetarian appetizers, all of which exceeded our expectations. We ordered three dishes: burrata with fried brussel sprouts, thousand crepe lasagna, and crispy eggplant "chicharrones". All of these dishes were wonderfully flavorful and intriguing to the palette. The lasagna, decorated with cilantro and avocado, was like a cloud and the pasta sauce was light and foamy, yet super rich. If you're ever in the Monterrey area, I highly recommend visiting Libertad. The setting, the presentation and service were all five star, and the prices were fine. We'd give three dollar signs on Google, though. 
Climbing and Life in Parque La Huasteca
Parque La Huasteca. Here we are so close to where we were, just on the other side of the "hill" from El Salto, yet feeling like another world.
HuasteCamp, where we are staying, isn't just a place for visiting climbers. It hosts travelers of all types from all over the world. Our first night here we met a funny Polish couple who shipped their second generation VW Kombi across the Atlantic and have driven it all the way from Canada, all through Mexico – through the actual dangerous parts! – and who are really quite adventurous. The man said of all he's seen now, his favorite part was being deep in the Yukon. Yes! Unihabitated, wild places attract me like no other. I considered doing my NOLS course in the Yukon based on the experience of friend, Alicia, who has inspired me in so many ways in my life and in my thinking, but I went to Alaska instead…equally wild, beautiful, and a whole 'nother story. 
Diego Gutierrez is the host of HuasteCamp, and it is a surreal place in the best way! I'm pretty sure Diego has been around for a long time, many lifetimes… if you know what I mean. He's super chill, laughs a lot, and is kind and helpful. Diego has given us advice about where to go for a haircut, where to climb, and even helped us change our oil. And he's always glad to give you his perspective on Mexican history and politics. He is very social and is always suggesting things to do together, or having friends and his beautiful girlfriend, Lorenia, around. She's an artist and does dreadlocks for other people for a living.
Everyday Life in Mexico
Why are ordinary moments so memorable? Going on errands in Santa Catarina with Diego and Lorenia made us feel so at home. We also got to go on errands with Ramón! Michal met Ramón via the local climbing organization, Escalada Libre. Ramón took us to a vulka one night for an emergency tire patch. Then, a few days later, he took Michal to a dentist get his tooth fixed.
Diego and Ramón have shared so much insight about the local climbing here. Especially memorable was going together to El Cañón de Guitarritas, a secluded and sacred place for the Huichol people. Guitarritas canyon forms a spiral shape, like a snail or caracol. The Huichol consider the center of the spiral the center of the universe. Watched the full moon rise over the center of the caracol is a memory that will last for me forever.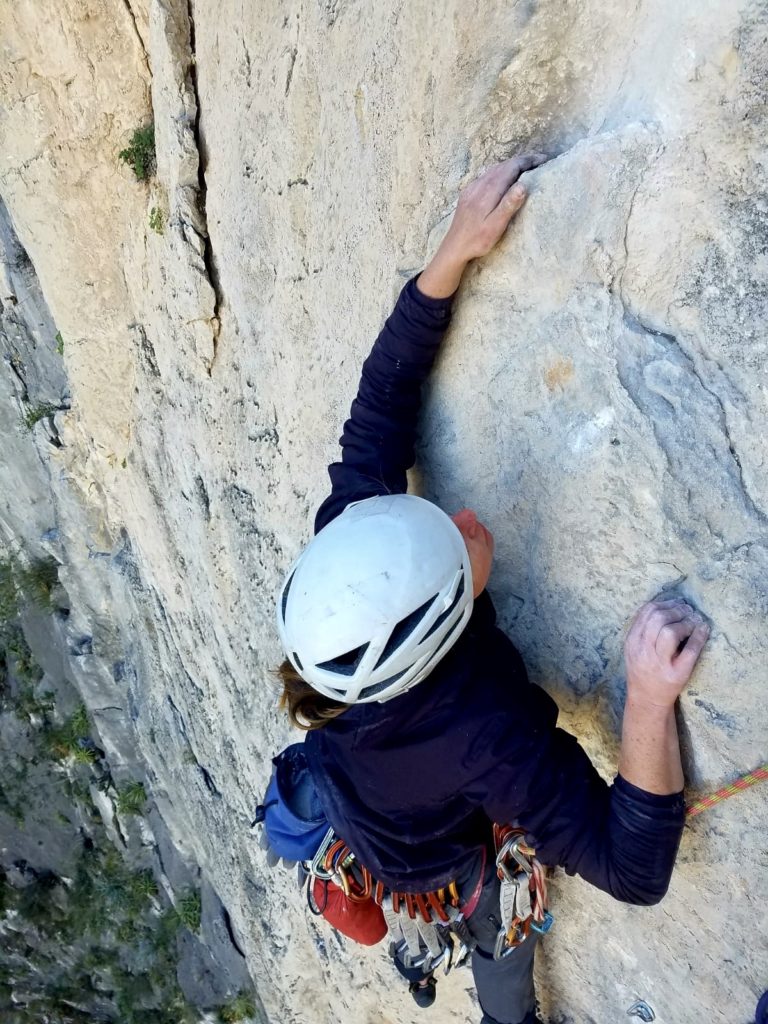 Climbing in La Huasteca
Most of the walls in La Huasteca inspire Michal more than me because they are huge. However, there's actually this little wall here with really short routes called Las Cazuelas and the climbing at Cazuelas is like a full body puzzle. It's very technical, dead vertical, and very intense for your fingers. 
These odd, shallow dishes called cazuelas define the rock on Cazuelas wall. You can pull down on them, undercling them, or pinch in between them.
Parque La Huasteca is technically a national park, although it feels pretty urban given its proximity to Monterrey. Unlike El Salto where we walked everywhere, we drive here everyday because the city is more accessible. According to locals, the smog's gotten even worse in the park in the last 5 years. As a result, it obscures the limestone peaks which engulf Monterrey. Monterrey is a global industrial giant. Its position close to the U.S. attracts manufacturers all over the world. Monterrrey is "home to giants like Cemex, the third largest cement company in the world…" (Climbing) Citizens and businesses disregard air quality alerts, warnings not to engage in activities that increase particle emissions. (Mexico Daily News)
"Monterrey is Mexico's Nafta powerhouse… Every highway leaving the city of 1.3m leads to wind-whipped industrial parks. A quarter of the economy of surrounding Nuevo Leon state is manufacturing…"

– Financial Times
The daily program here is usually sleeping late, making our "upgraded coffee", climbing a few pitches in the evening, hanging around camp, cooking – a lot of cooking – and reading. Just easy living. It's really nice. 
We've met other climbers traveling from the States, Canada and Europe and seen friends and acquaintances we know from Colorado. We've met people from the Mexican climbing community, and we've met other non-climbers with indefinite travel plans like us. Meeting cool people from around the world has been the best part of this trip.
We'll be Mexico for about one more month. I still want to take a day trip to Saltillo – hopefully with my little family! – to visit the Desert Museum. Go to Potrero Chico, find the hot springs, send more pitches, meet more people, try and make more food. To say and understand more complete sentences in Spanish. And whatever else my time here has in store for me. Climbing in El Salto and everywhere else in Mexico has been super memorable and worth the journey. 
¡Adelante!